If you are interested in Splitdorf generators or magnetos you've come to the right place. This page is devoted to increasing knowledge of about Splitdorf magnetos and generators as they relate to antique American motorcycles. I do not claim to be a Splitdorf expert; I'm constantly learning more about them. If you see something here that you think may be in error please send me an e-mail. If you have some information that may be helpful to others please send it along too. Perhaps we can all learn something along the way.
I'm always interested in buying any Splitdorf generators, generator parts or literature. If you have anything you'd like to sell please contact me. Those extra parts you may have could help me complete another generator and get another enthusiast's antique motorcycle on the road.
Follow the links for more generator and magneto information:
My Splitdorf Background - How I got into working on Splitdorf equipment.
Splitdorf Generator page - General information on "DU" model generators.
Splitdorf Magneto page - General information on magnetos used on American motorcycles.
Splitdorf Generator Application Chart - A listing of motorcycles and the specific generator used.
Tips - How to keep your Splitdorf generator running well.
Resources - Where to get parts and services for generators and magnetos.
Generator Rotation - How to change rotation of a Splitdorf generator.
Auto-lite Distributor application chart for Indian motorcycles.
Auto-Lite Generator application chart for Indian motorcycles.
Here are a few of my previously published articles:
The Splitdorf DU-7 Generator - Repair and Overhaul of the Splitdorf DU-7 generator used on the 1928-1930 Indian 101 Scout motorcycle.
The Splitdorf Generator - Identification, Care and Feeding - A discussion of the different "DU" model generators used on antique American motorcycles.
Spark plugs, magnetos and oh my aching leg! - Common problems and causes of hard starting with magneto ignition.
12 to 6 volt battery conversion, a re-volting experience - How to saw a 12 volt battery in half to make a 6 volt battery for your antique motorcycle.
Setting Up An Early Corbin Speedometer; A Discussion Of Right Angle Drive Lines - How to calculate the correct drive gear ratios for early Corbin speedomters.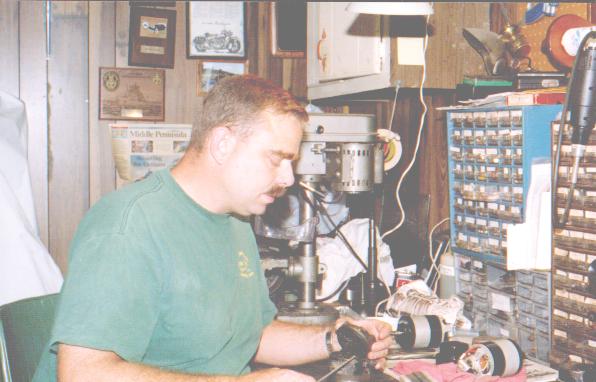 Steve hard at work.